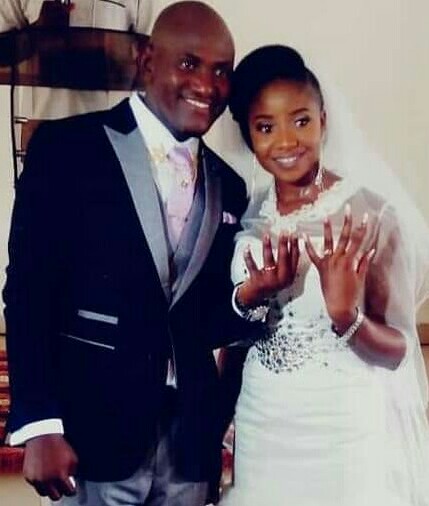 The 21st day of March in the year 2020, will ever remain indelible in the hearts of Arc. Achile Steve Edegbo and Miss Alikeju Maryann Akubo when they were joined together in the holy matrimony at the Assemblies of God Church, Mararaban Rido, Kaduna, Northwest Nigeria.
The wedding, culturally and religiously brought together immediate families of the groom from Abocho and the bride from Agbeji, all in Dekina Local Government Area of Kogi State, North Central Nigeria.
Also at the occasion to identify with the couple were, the Olimeneh Attah Igala and the Chief of Igala community Kaduna, Chief J. Daikwo, relations, family friends, professional colleagues and other well wishers from across the country.
Officiating 'Men of God' were made up of the host Pastor, Rev. Giwa Sunday Kanda, Pst Mmaduabuchi Agbo of the Living Faith Church ( Grace Land), Rev Joseph Bawa, Simon Yari, Bitrus Baraje and Rev. Emmanuel Abuh of the CEFN, Kakuri, Kaduna. Others were, Pst John Donald, David Baba, Samuel Karfe John Abimaje (LFC Sabo) and Pst. Michael Ojebunmi .
In a sermon, Pst Mmaduabuchi Agbo charged the couple to imbibe the spirit of love, submission, humility, wisdom among others, in order to have a blessed and sustainable home.
The wedding ceremony featured melodious music by the AGC Women Choir as well as the Women Choir from CEFN Zonal Hqtrs Church Kakuri, Kaduna with their usual prophetical songs of praise to God to bless the couple with the fruit of the womb.
In a toast, Arc. Achile assured Alikeju that he could conquer the world with just one hand as long as she (Alikeju) would hold the other.
The groom, Achile Steve Edegbo is a graduate of architecture from Ahmadu Bello University and Alikeju a graduate of Industrial Safety and Environmental Technology, Kaduna Polytechnic