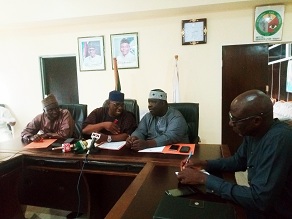 The Senate ad-hoc Committee on use of avastin injection at National Eye Centre Kaduna, North West Nigeria has lauded the professional procedure adopted in handling victims of the drug after it was administered on them.
Chairman of the committee, Senator Matthew Urhoghide, Edo South, stated this on Thursday after a one -on- one interaction at National Eye Center, with all the 10 patients who had initially gone  blind, but regained sight.
''After listening to the Chief Medical Director, Doctors, the Pharmacist and above all and the patients we must honestly commend the Hospital management, these things happen in medical science, but we are not here to punish anybody or blame anybody, but we have to know what actually happened so that we can prevent the reoccurrence of this ugly incident. Let me also clear one misconception, the Senate didn't ban the use of avastin, it was only suspended and from what we have seen here 2,113 patients have used this drug in this hospital in the past and there was no problem'' Urhoghide remarked.
Other senators who interacted with the patients were Senator Ibrahim Yahaya Oloriegbe from Kwara State and Senator Bala Ibn Na'Allah.
Addressing members of the Senate Committee, the Chief Medical Director, (CMD), of the Centre, Dr. Mahmoud Alhassan said on May 27, 2019 eleven (11) patients scheduled for intra-vitral injection were examined.
He added that some of the patients had co-morbid ocular conditions including glaucoma. He said that they were either hypertensive, diabetic or both.
Speaking on the drug, Dr. Mahmoud Alhassan said the drug has been proven to be effective in management of several eye diseases in addition to it's use as an anti-cancer drug.
"A day after the procedure, one of the patients returned complaining of pain and visual deterioration.
"All the ten (10) patients who had intra-vitral injection were recalled, along with patients that had other procedures in the same theatre suite.
"All the patients who had intravitreal injection were admitted and had corrective procedures and happily some have regained their vision while others are recuperating as they await Secondary procedures for visual restoration.
"One patient left against medical advice after he underwent a retinal procedure," said.
Some of the patients who spoke to our Correspondent said they have regained their sight, but still under medication.