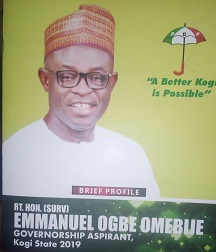 By Joseph Edegbo:
A People's Democratic Party (PDP) gubernatorial aspirant in Kogi State, North Central Nigeria, Emmanuel Omebije has said that the State needs to be delivered from the clutch of collapsed and the mismanagement of the, "present crop of usurpers".
The Aspirant was speaking on his vision of "A Better Kogi " which hinges on good Governance, servant leadership, innovation, transparency and accountability.
A grassroot politician and former Deputy Speaker of the Kogi State House of Assembly, Omebije told AFRICA PRIME NEWS that the State needs to be provided a true and viable social democratic system with an all inclusive style of governance devoid of tribal, gender or sectional considerations.
This is with a view to decisively deal with all socio-economic vices that have gripped the State, he said.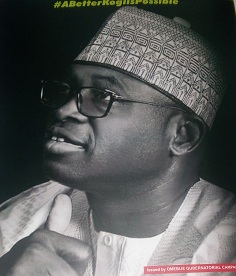 It is Omebije's desire to build the people as the main and prime resource, and compliment same with strong structures and institutions devoid of personal interests and considerations, where the greatest good for the greatest number is paramount.
The Aspirant re-echoed his avowed commitment to create and lead sustainable pragmatic innovations, economic regenerational platforms, industrialisation among others with due consideration and premium education, agriculture, women and youth empowerment as well as job creation through private sector Initiative.
Under youth empowerment, Omebije promised a deliberate encouragement of graduates of skill acquisition centres to establish small cottage of their own to aid in reducing the unemployment rate in the State.
"Existing skill acquisition centres will receive adequate funding, while others will be established to ensure a minimum of 10,000 opportunities are availed every year".
Turning Kogi State into a hub for major agricultural producce, like cashew, ginger, benniseed, cassava , grains and tomatoes , would be on the front burner of the government.
On labour matters, the Aspirant said "Our Government will encourage cordial and conducive labour relationships with the unions, continuous engagement with labour leaders, prompt salary payments as well as proper staff training and proper positioning.
Taken into cognisant that health is wealth, Omebije listed primary health care as the foundation of their health delivery programs.
So, to this end, he said, a medical program targeting infants, pregnant women and the elderly,  would be established, while emphasizing on standardizing health facilities and make them functional.
More doctors and health workers would be encouraged by the government to take up employment in the State, while work towards the completion of the Kogi State University Teaching Hospital would be ensured, he promised.
A Lincesed Surveyor, Omebije said he singlehandedly Obtained the map of Kabba Province and Onitsha Province from a library in London, United Kingdom which, has to a large extent brought normalcy to the erstwhile boundry dispute between Kogi and Anambra at Aguleri.
In the area of attracting development to Kogi State, Omebije said, he had invited American Nationals to explore how Mount Patti could be developed into a tourist zone, among others.