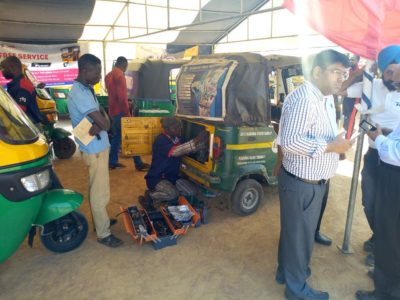 By Amos Tauna
Kaduna (Nigeria) – Wandel International, a Flagship Company of the Simba Group, has trained about 5,000 mechanics Pan-Nigeria and distributed 3,000 special tool-sets, that has resulted in the creation of jobs to thousands.
According to the representative of the company in Nigeria, Manish Rohtagi,the company is the leading player in the tricycles industry in the country.
"The company is home to some of Nigeria's best-loved brands. We are honoured to organized in Kaduna a Mega Free Checkup Camp. During this three day event, our engineers will attend more than 300 tricycle riders," he said.
He explained that there will be free diagnosis and repairs of their vehicles with spare parts at discounted rates, free oil filters and engine oil for attended vehicles and free doctor consultation for Blood pressure and Diabetic condition during the camp.
He further said, there would be end-users' training on safe driving and keeping their vehicle fit, training of mechanics with free tools distribution, it would give the opportunity to improve technical skills of the mechanics, reduce and maintenance costs for riders.
Over the years, he noted that the company had launched many empowerment programmes, adding, "At the heart of our value proposition is a commitment to quality and service."
Wandel International started operations in Nigeria in 1988.
Nigeria Strengthens 'Start Ups', Carries Campaign Round The Country