By Ibrahim Yakubu
Kaduna (Nigeria) – Irrigation farmers in Kaduna State, northwest of the country have started counting their losses as crops and grains are withering due to climate change.
Crops mostly affected are wheat & Tomatoes, which growth and survival depend largely on water from ponds, streams and earth dams.
These water sources have now dried up, thereby leaving the farmers lamenting over lack of water for irrigation and the loss they suffered.
Most farmers at Rigachikun, Igabi local Government area of Kaduna state, who spoke to this Reporter, complained bitterly over the shortage of water to supply their farms.
Usman Ahmed Rigachikun, is one of the local farmers in the area, who described how the shortage of water is affecting their farm crops.
He stated that climate change has contributed to the dryness of the sources of the water they used on their farm land.
Ahmed said, Majority of the wheat farmers have already abandoned their farmlands due to scarcity of the water," All our farm crops are dying due to the shortage of water and it's a huge loss to many farmers in the area, that is why we are calling on the state government to come to our rescue,"
"As you can see we cannot do anything with the dry crops, so we donate them to cattle breeders for t
heir animals to eat, because there is no water, no water at all in the area"
Most of the farm crops are changing colors due to shortage of water, the leaves and the body of the crops are also drying, and this is a bad sign for wheat and Tomatoes farmers in the area this year.
"If you check all the streams and the little well with pond that most farmers depend on during the dry season for farming, you will discover that they are all dried, and there is no any other source of water apart from the one we depend on", he said.
"The stream where the water do usually stay are all dry, all the wells and other sources of water in the area are dried"
Another farmer in the area,  Bulus Alhassan, who has been farming  for over 20 years in the area,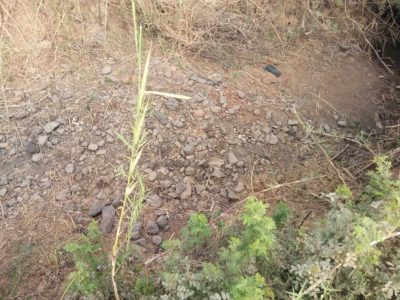 pointed out that apart from wheat, they have many other crops that are withering due to scarcity of water.
He says plants like maize, rice, okro are all drying due to lack of water and this is making the farmers losing huge amount of money.
Bulus added that they want government to come and construct boreholes and provide other sources of getting water,
He said this year's dry season is the worst of its kind, and it is all because of the global climate change, which they had only before now, been hearing on radio.
Bulus ended by calling on the state government to quickly come to their aid.
Meanwhile African climate reporters have called on Nigerian local farmers to be mindful of the climate change, while calling on state and federal governments to find means of cushioning the effect on the local farmers to guarantee food security.
The Expert's View
A Professor of Geography with Kaduna State University (KASU), Bala Dogo, attributed human activities in the environment to the negative impacts on the climate and urged residents to stop activities that may adversely affect the environment.
Dogo listed deforestation, bush burning, building of houses and felling of tress for firewood among factors contributing to climate change.
"The impact of climate change is very visible from drying up rivers, to desertification and changes in weather condition with adverse effect on agricultural production and human health.
"Rivers and streams of yesterday are either dry or have become ponds, speeding desert encroachment, particularly in northern part of the country and gully erosion in southern part of the country.
"Not only that, climate change affects grazing of cattle due to the disappearance of grasses and forest due to shortage of rainfall and human activity,'' he said.
Dogo called on people to have a change of attitude towards the environment by planting trees and reducing the use of wood for cooking and other activities.
Nigeria's Commitment to Address the Issues
In a submission to One Planet Summit in Paris last December, a meeting attended by over 60 Heads of State and Governments, as well as representatives of non-governmental and private organisations, with the theme, "Climate Change Financing," the President Muhammadu Buhari of Nigeria was quoted saying, "We cannot implement our Nationally Determined Contribution [NDC] without adequate financial, technical and capacity building support from the developed countries."
He added, "since the adoption of the Paris Agreement, we have been strengthening our national efforts towards the implementation of the Agreement and the Marrakech Call for Action," Nigeria had already ratified the Paris Agreement in May 2017.
But he emphasised that Nigeria's "Nationally Determined Contribution to reduce our emission by 20 per cent by 2020 and 40 per cent by 2030," cannot be attained by the country alone.
But speaking at the 72nd United Nation General Assembly, (UNGA), Nigeria's Minister of State for Environment, Ibrahim Jibril, enumerating the steps to be taken by the government said, "The NDC ambition under Climate Change Accord would cost an estimated $142 billion to meet the 2030 target. The NDC is a binding agreement which spelt out the actions a country intends to take to address climate change both in terms of adaptation and mitigation when it ratifies the Paris Agreement.
"It is estimated that Nigeria will require around $142 billion, translating to about $10 billion per annum to meet her NDC target by 2030. In the midst of this vulnerability, an opportunity resides for the Nigerian economy to grow in a manner that is climate resilient and empower people while meeting its energy deficiency. One of the innovative means of exploring this opportunity is through the issuance of green bonds, which has gained recognition as means of raising finance for climate friendly purposes.
"Accordingly, the Federal Government has plans to issue a programme of N150 billion in green bonds over the next few months. This is with a pilot issue of N12.384 billion in the third quarter of 2017 and the balance over the course of the budget year. Collaboration between Ministry of Environment and Finance continues to pull together the institutional partners necessary to achieve what would be Nigeria and Africa's first sovereign green bond and the world's third," he added.
Nigerians, especially the local farmers, are yet to feel the effect of these investments, if at all any have kobo has been invested so far.
Iliya Kure contributed to this story from Kaduna, northern Nigeria.