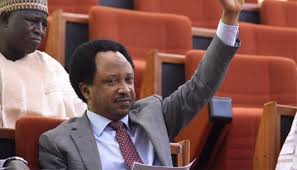 By Juliana Katung
Kaduna (Nigeria) – A pressure group in Kaduna, northwest of the country, Youth Movement For Credibility has described a reported recalling process of Senator Shehu Sani by another group, Concerned Kaduna Central Indigenes, as vindictive and fraudulent.
According to the Youth Movement, the recall process being orchestrated by the Concerned Kaduna Central Indigenes' through one Aliyu Sa'idu Dan Baturiya is sponsored by the Government.
"It is no longer news that this latest round of drama is the culmination of the frosty relationship that exists between the domineering Governor and the fearless Senator.  We are worried about this embarrassing scenario in our dear state particularly our Senatorial Zone"it says.
Addressing newsmen on Wednesday in Kaduna, the Chairman of the group, Mustapha Aliyu, noted that Shehu Sani right from the days of his activism and up till today, has always insisted on good governance not only in Kaduna State but Nigeria in general.
He noted that the Senator had on different occasions championed anti corruption campaigns as reflected on his sponsored  bills and motions in the Senate.
"What we are seeing today is Shehu Sani's consistent insistence not to join Nasiru Elrufa'i in impoverishing Kaduna State. It is no secret that since Nasiru Elrufa'i became Governor he has plunged Kaduna State into one crises or the other in a bid to become the Emperor of the State politics" .
"This did not stop him from retrenching both the state and local government workers. Many of the state owned institutions have not been performing optimally in spite of being a beneficiary of the Federal Government's bail-out funds and also the Paris club refund to states", he stressed
The Youth Movement Chairman added that Kaduna State is now adjudged one of the worst governed states in Nigeria since the emergence of the new "Adolf Hitler" in the state, stressing that nothing is working in the state and that Shehu Sani and other progressives have vowed never to remain silent in the face of this gross mis-governance.
He further explained that Governor Elrufai rather than commit himself to revamping the state, devote his entire energy, state resources and time to a futile and fraudulent recall process of Shehu Sani that would further plunge the state into unimaginable debts.
"Here is a complete opportunist of a failed Governor who clearly does not understand what democracy is all about.
While enjoying perks of the office of a governorship he neither earned nor deserves in any way, he shows absolutely no interest in understanding our constitution and its dictates pertaining to that office and its proper relationship with other arms of government.
If we may ask, "what does Governor Elrufa'i really want, in the first place?" Perhaps, his desire is that the laws should be amended by the National Assembly so that he can have the sole right to choose those to represent Kaduna State in the Senate, House of Representatives, the House of Assembly, Local Government Chairmen and Councilors as well", the chairman argued.
"This may be the only way he can exercise his powers as sole administrator or emperor of a poverty stricken state he has only succeeded in ruining further", he added.
According to him, Elrufa'i is so committed to denigrating the legislature as a separate, independent and co-equal arm of government that as if to prove the point that he lacks all democratic credentials, he is busy having supporters of Senator Shehu Sani arrested for no reason than their loyalty to the comrade.
He described the alleged action  of Governor Elrufa'i as a political vendetta, noting that the rising political profile of Senator Shehu Sani is seen as a threat to his dwindling political fortunes in Kaduna State.
"Senator Shehu Sani is clearly a fighter on the side of the defenseless masses of Kaduna State. Shehu's revolutionary life was sharpened by the lives of world class heroes and icons of freedom and democracy Mahatma Gandhi, Nelson Mandela, Malcom X and Martin Luther King Jnr. His numerous awards are pointers to his avowed goal of repositioning the poor masses of his state to stand against forces of oppression and repression in a poverty ravaged state like Kaduna State.
"We await the outcome of the 'comedy of errors' in which a failed Governor Nasiru Elrufa'i now apparently seeks a new career as the sacker of legislators", the group added.
The Youth Movement Chairman therefore called on well meaning Nigerians to condemn the misuse of state power saying that Elrufa'i should concentrate  on rescuing his sinking state from the political abyss that wants to consume him.