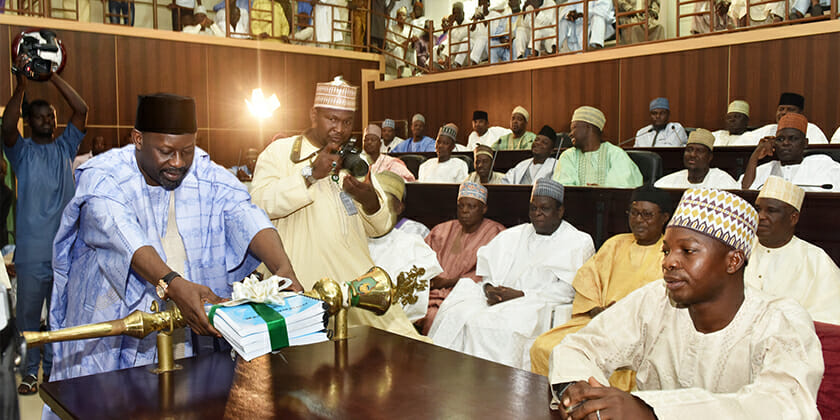 By Auwal Umar
Gombe (Nigeria) – Gombe State House of Assembly,  northeast of the country, has passed the 2018 Appropriation bill of N114 billion reflecting an increase of N9.268 billion above the initial proposal presented to the House by the  Governor.
The increase adopted on the floor of the House is contained in a report presented by Chairman, House Committee on Appropriation.
Presenting the report, the Chairman of the Committee, Solomon Philip Jisimah said the Budget is made up of a Capital Expenditure of N61.217 billion representing 53.61% and a Recurrent Expenditure of N52. 973 billion representing 43.39%.
He explained that, the Budget would be funded with Recurrent Receipts of N73,068,366,500.00 and Capital Receipts of N61, 309, 829,476.00 .
Giving the sectoral allocations of the Capital Expenditure, Philip Jisimah said the Economic Sector has the highest allocation of N35,250,904,545.00 representing 57.58%  followed by Social Sector with N21,293,402,780.00 representing 34.78%, while Administrative Sector and that of Law and Justice, have N3 Billion and N1.6 Billion respectively.
The chairman told the House that the N9,268,442,962.00 increase on the initial proposal laid before the House, is to  carter for the construction of general Hospitals, establishment of Fire service Stations in some local Government Headquarters, construction of roads and Earth Dams, as well as payment of outstanding Pension and Gratuities to State and Local Government pensioners which were either not captured or underfunded in the initial proposal.
After a thorough deliberation, the House approved the Budget size and the sectoral allocations.
The House also approved the recommendation of the Committee that Fire Service Offices be established in Dukku, Billiri and Yamaltu Deba Local Government Areas, while General Hospitals be established in Shongom and Kwami Local Government Areas.
Also approved are logistics for revenue generating Agencies to enhance revenue collection and that the Land Use Act in the State be reviewed in order to meet the challenges of modern time.
Speaking shortly after the passage of the Budget, the Speaker, Nasiru Abubakar Nono commended the Appropriation Committee for presenting an articulate report that guided the House in taking informed decisions.
He called on the Executive to ensure the effective implementation of the budget as approved by the House.
The Speaker also enjoined  standing Committees of the House to maintain the spirit of diligent oversighting on MDAs under their purview to achieve appreciable performance in the implementation of the  Budget.
Nigeria: Gombe To Spend N4.5 Billion On Pension And Gratuities In 2018