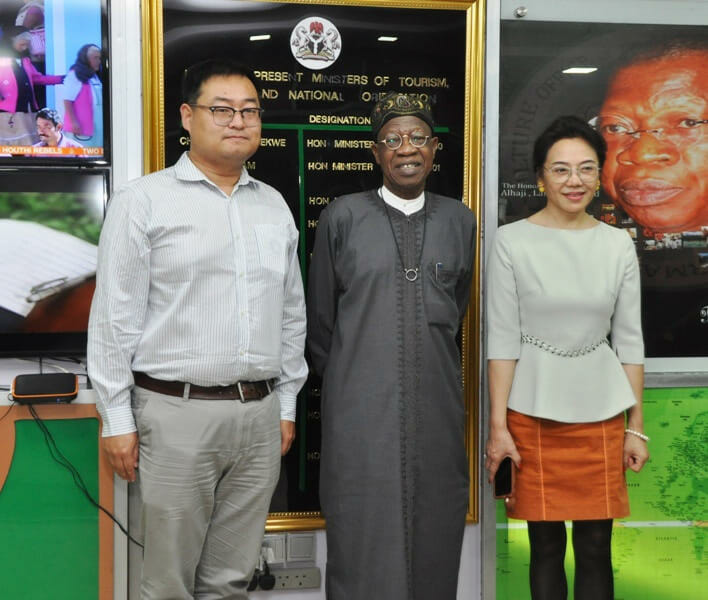 By Amos Tauna
Minister of Information and Culture, Lai Mohammed, has called for a meaningful partnership between Nigeria and China in Television Production and Animation.
"What we need is a meaningful partnership between these companies and Nigeria to develop our animation technology and our animation culture to a level that it will not only be impactful and meaningful, but will also be another vehicle through which we can promote the culture of Nigeria and its diversity," Lai Mohammed said when he received in his office a delegation of Television Production and Animation Companies from China.
A statement issued by the Special Adviser to the minister, Segun Adeyemi explained that the minister
described animation as the fastest growing genre of the film industry, saying animation will thrive in Nigeria, especially if it is rooted in the culture and tradition of the people.
"Animation today has grown into a multi-billion-dollar business and notably in China, France and some other countries and we have in abundance in Nigeria abundant talent and also content.
"We have the content, we have the stories, what we need is the technology. So we want to partner with you in a manner that we can encourage our very young and talented artists, film-makers and producers.
"The content of the animation, for it to be meaningful to us and to the younger ones, must be rooted in the culture and history of our people," the Minister said.
He expressed the optimism that animation would open another vista of opportunity for the talented youths in Nigeria because of the abundance of interesting stories in the country, and stressed the need for technology transfer from China in order to make the desired impact.
He said with Nigeria's remarkable progress in the ease of doing business and the various positive economic indices being recorded, the country was now the preferred destination for investors, with a guaranteed on investment.
Mohammed advised the companies to take advantage of the various policies put in place by the government, such as a three-year tax holiday for companies that have been classified to enjoy pioneer status, and invest in Nigeria in view of the country's huge population, talent and availability of content.
Earlier, Mr. Chen Huanan, the leader of the delegation and the Director of Culture and Tradition in the Chinese Ministry of Culture, said the delegation is in Nigeria to seek areas of cooperation with their counterparts in the country.