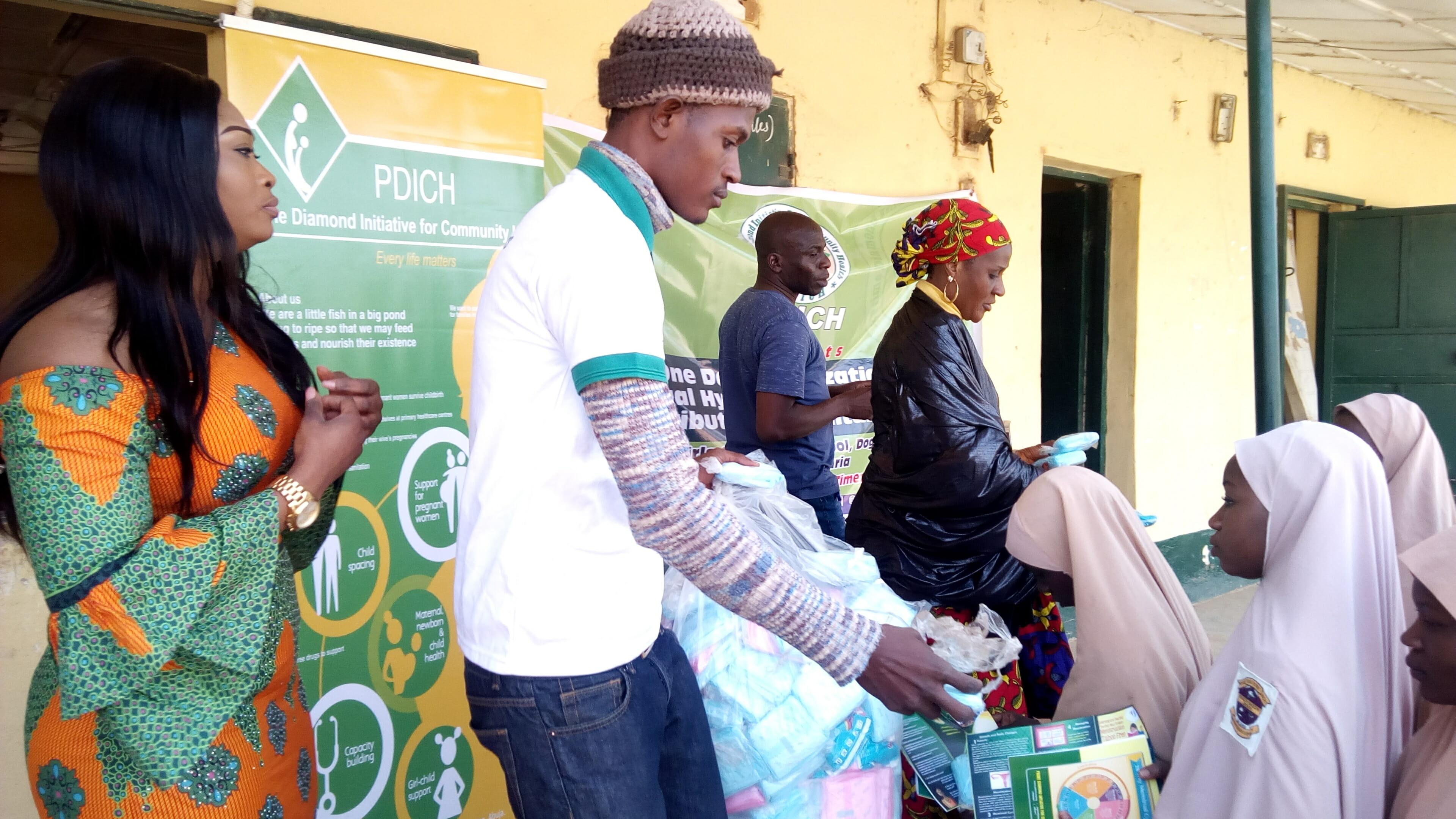 Mohammed Ibrahim,
Kaduna (Nigeria) — A United Kingdom based Non-Governmental Organisation (NGO), Diamond Initiative for Community Health (PDICH), has tasked Nigerian Government and other stakeholders to make available sanitary materials to girls in Schools.
PDICH founder, Chinasa Onukegbe (Nas Ebiere) made the called in Kaduna, northern Nigeria, while distributing sanitary pads to some girls from Government Girls Secondary School Dogon Bauchi, at Sabon Gari Local Government Area of the state.
Nas Ebiere explained that Menstruation simply means bleeding from the vagina that occurs in adolescent girls and women, as a result of hormonal changes which usually happens once a month and in a predictable pattern.
She pointed out that once a girl begins menstruating, she needs to have access to menstrual hygiene products either reusable or disposable pads.
"When none of these is available, it becomes a problem, both to a teenager or an adult, as they face more problems such as infection or infertility.
"In our environment today, it is still seen as a taboo topic, which is hardly ever discussed at home with parents, or teachers at school (male/female). They find it uncomfortable to talk about it, especially where there is no female adult.
"This education is important to discuss with all adolescent (girls and boys), so the girls do not experience potential embarrassment or trauma if they start their first period without knowledge of what is happening to their bodies.
"MHM requires education, menstrual products, hygiene (toilet, soap and water), health services and positive social norms. These all aligns with Prime Diamond Initiative for Community Health (PDICH) thematic focus in sensitisation of young girls along with the SDG goals on promoting education, good health/wellbeing and gender equality," she said.
She equally added that "Having access to menstrual hygiene products promotes privacy and restores dignity, keeps girls focused in schools, promote safe spaces for girls, increase their confidence, value and respect for their bodies,
"Reduce gender inequality and discrimination, reduce unhygienic practices which causes infection and infertility, reduce transactional sex and teenage pregnancy.
"We call upon all individuals, partners and government to collaborate and end the discrimination and stigma surrounding menstrual hygiene. This can be achieved by supporting and providing free sanitary materials to every girl child in schools and from low income families as having access to menstrual hygiene products puts an end to period poverty. All of these contribute to a healthier and safer nation," she said.
Pass Gender Bill Now — NGO Tells Nigeria's National Assembly