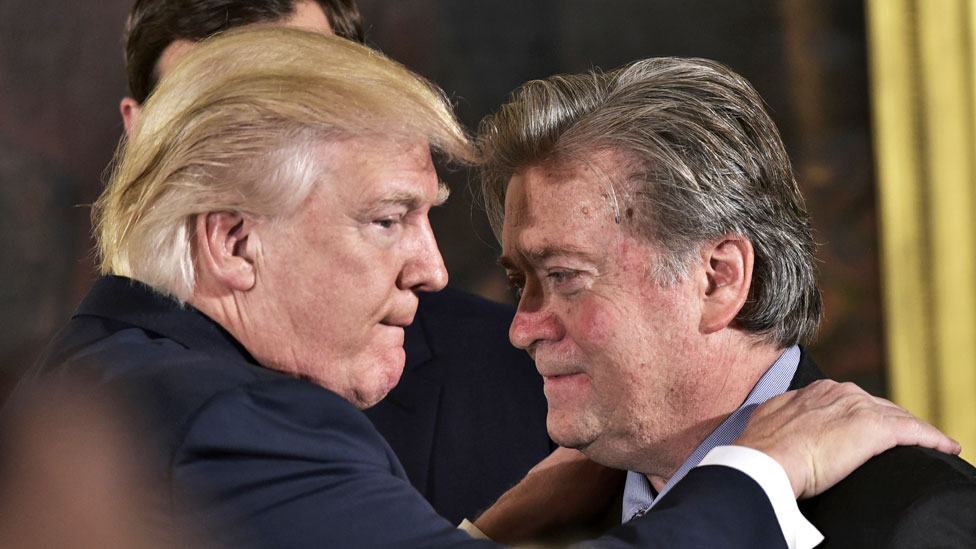 Lawyers for US President Donald Trump are seeking to stop the release of a book containing explosive insights into his presidency, US media report.
A letter demands that author Michael Wolff and the book's publisher "immediately cease and desist from any further publication, release or dissemination of the book".
Fire and Fury: Inside the Trump White House is due for release on Tuesday.
The book extensively quotes former Trump strategist Steve Bannon.
Among a number of explosive statements, Mr Bannon said he thought a meeting between Donald Trump Jr and a group of Russians was "treasonous".
The meeting is being investigated by Special Counsel Robert Mueller as part of his inquiry into possible collusion between Trump campaign officials and Russia.
Mr Trump earlier responded to the release of excerpts of the book by saying Mr Bannon had "lost his mind" after losing his White House position.
On his radio show on Wednesday, Mr Bannon responded to the president's criticism by saying he was a "great man".
"You know, I support him day in and day out," he said on the show produced by right-wing Breitbart News, which he heads.
The book is reportedly based on more than 200 interviews.
Note: This story is auto-generated from BBC syndicated feed and has not been edited by AFRICA PRIME NEWS