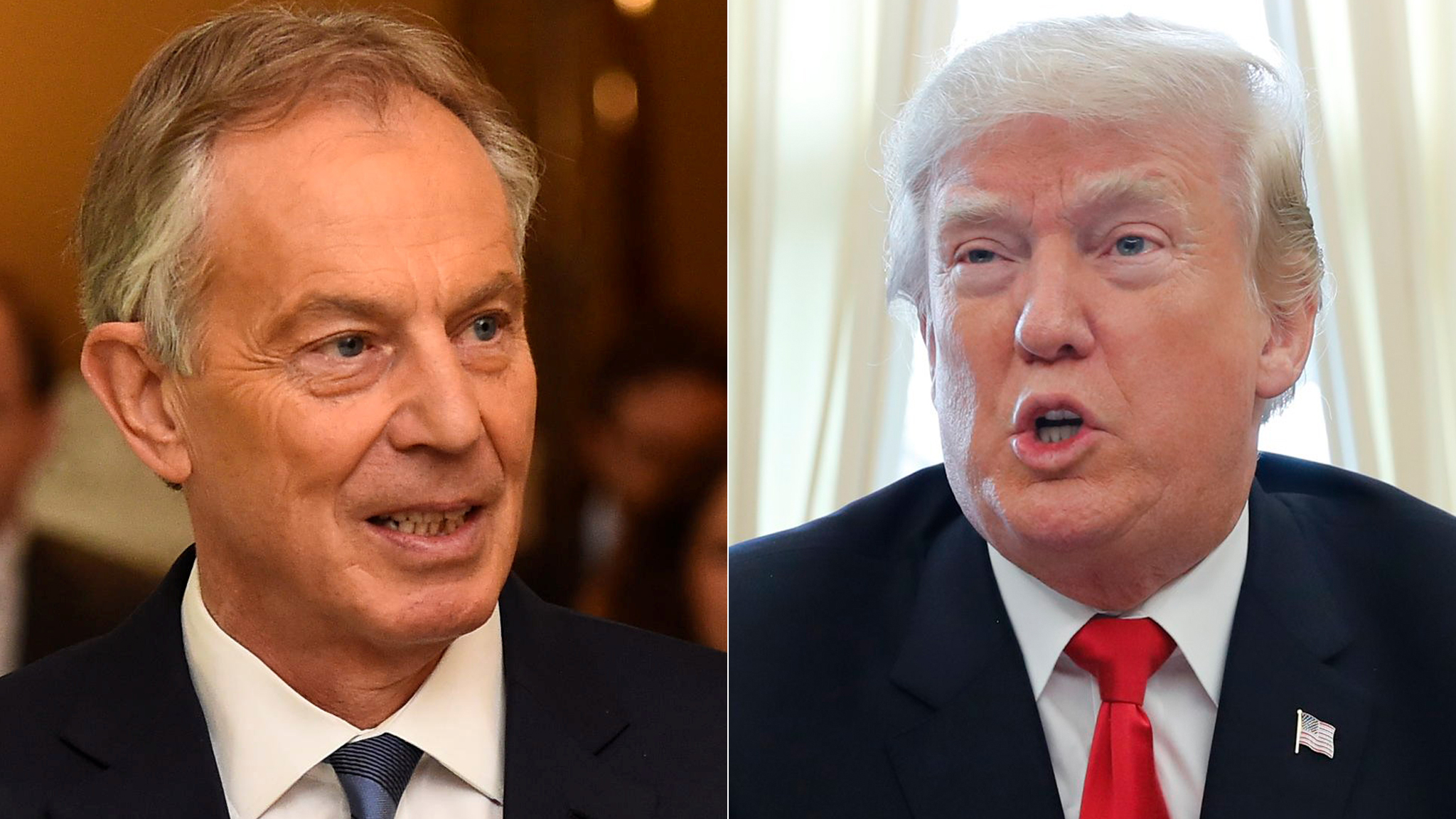 A claim that Tony Blair warned Donald Trump's aides UK intelligence may have spied on him is "a complete fabrication", the former PM has said.
A new book says Mr Blair had shared a "juicy rumour" with the son-in-law of the US president, Jared Kushner, that campaign staff, "possibly even Trump himself", had been under surveillance.
He is said to have been "angling" for a post-election Middle East adviser role.
Mr Blair's office said the allegations were "absurd" and "simply untrue".
The former UK prime minister told BBC Radio 4's programme: "I have never had such conversations in the White House or outside of the White House, with Jared Kushner or with anybody else."
He said he had met Mr Kushner and had discussed the Middle East peace process with him but "I wasn't angling for some job".
"I have absolutely no desire for an official position was never offered one, don't want one," he added.
He said the claim was "a reflection of the crazy state of modern politics".
The account of an alleged meeting between Mr Blair, Mr Kushner and a senior aide at the White House in February 2017, the month after the presidential inauguration, is contained in the book by journalist Michael Wolff and reported in the Times.
According to Mr Wolff's account, in Fire and Fury: Inside the Trump White House, Mr Blair shared the rumour that, during the election, British intelligence "had had the Trump campaign staff under surveillance, monitoring its telephone calls and other communications".
The former PM is reported to have given the impression that Barack Obama's administration had hinted that such surveillance would be helpful.
Last March the US TV channel Fox News carried an unsubstantiated claim that UK intelligence services could have been involved in an alleged spying operation on Trump Tower in New York.
The allegation was repeated by the then-White House press secretary Sean Spicer, prompting a rare on-the-record response from Britain's intelligence chiefs.
The UK's spy agency GCHQ said the claims "should be ignored, describing them as "nonsense" and "utterly ridiculous".
Meanwhile, Mr Trump has disavowed his former aide Steve Bannon, saying he "lost his mind" after he lost his job,
It follows reported comments from Mr Bannon in the book in which he describes a meeting between the president's son, Donald Trump Jr, and a group of Russians, as "treasonous" and "unpatriotic".
The Senate, House of Representatives and a US Department of Justice team led by special counsel Robert Mueller are investigating alleged Russian interference in the presidential election and alleged attempts to undermine Hillary Clinton.
The claims have been denied both by the Kremlin and Mr Trump.
The president has also vehemently denied any collusion with Russia.
Mr Trump's lawyers have sent a cease-and-desist letter to Mr Bannon, US media reports said.
On Wednesday White House spokeswoman Sarah Sanders described Mr Wolff's book as "filled with false and misleading accounts from individuals who have no access or influence with the White House".
"Participating in a book that can only be described as a trashy tabloid fiction exposes their sad desperate attempts at relevancy," she said.
A knife fight with consequences
By Jon Sopel, BBC North America editor
It's not unusual for former political allies to fall out. It happens all the time. But normally it's done in private, and maybe hinted at in public. Not this time. Not with this President.
This is a vicious knife fight between Donald Trump and his former campaign chief and White House Chief strategist being played out across social media.
Other Trump family members and supporters are piling in too. Why? Because Steve Bannon has enraged Donald Trump with his description of a meeting that took place between the president's son, Don Jr, and son in law, Jared Kushner, with a Kremlin-linked, Russian lawyer as unpatriotic and treasonous.
Note: This story is auto-generated from BBC syndicated feed and has not been edited by AFRICA PRIME NEWS