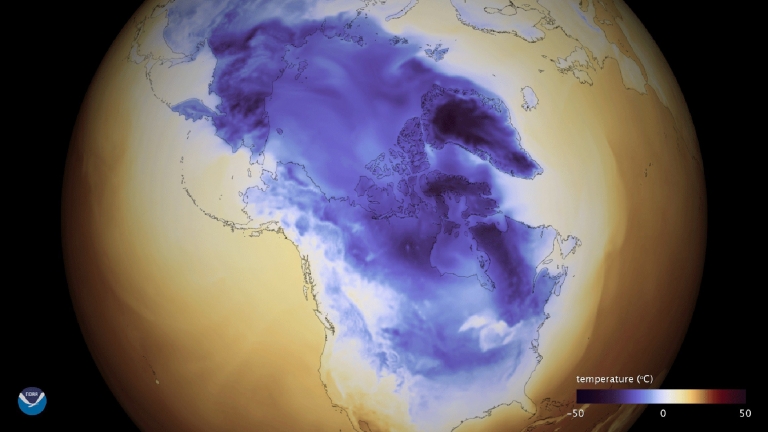 The US is braced for a "bomb cyclone" – a weather phenomenon which officials say will arrive during a cold snap that has already claimed at least 11 lives.
Forecasters say a severe pressure drop will lead to an explosive winter storm along the eastern US, and is already bringing snow to Florida.
The US is currently on its 10th day of frigid record-breaking low temperatures which began around Christmas.
But the predicted new storm has led meteorologists to deploy a new term.
The National Weather Service (NWS) has warned that "Arctic air mass will remain entrenched over the eastern two thirds of the country through the end of the week".
"Very cold temperatures and dangerously cold wind chills expected," the NWS added.
What is a 'bomb cyclone'?
A "bomb cyclone" or "weather bomb" is an unofficial term for what is known as explosive cyclogenesis, according to BBC Weather.
This occurs when the central pressure of a low pressure system falls by 24 millibars in 24 hours and can result in violent winds developing around the system.
The winds can be strong enough to bring down trees and cause structural damage.
The Washington Post adds that the coming storm will "in many ways resemble a winter hurricane" which could be the eastern US's most intense in decades.
It comes as the average temperature across the continental US hovered around 9.1F (-12.7C) on Tuesday morning, according to CBS News.
Where is it expected to hit?
On Thursday and Friday, the major storm is expected to develop along the eastern seaboard of the USA, bringing strong winds, rain, sleet and snow.
The storm is forecast to undergo rapid cyclogenesis over the Atlantic Ocean, and current projections show areas north of New York as having the highest risk of seeing significant impacts from strong winds and heavy snow.
Major north-eastern cities such as Boston are at risk of blizzards, and it is expected to cause disruption at air travel hubs with power outages also possible.
In the US South, freezing rain and sleet may reach as far down as Orlando, where agricultural officials say cold-sensitive crops such as citrus and strawberries are threatened.
Parts of Florida, including the northern city of Tallahassee, have already seen their first snow settling in decades.
Excited residents have been snapping photos of themselves playing in the snow, and school is cancelled in much of the state.
Is it cold everywhere?
No.
Several of Alaska's northern and central towns experienced some of their hottest months of December on record.
On Tuesday, the Merrill Field Airport in Anchorage recorded a temperature of 48F (9C) – higher than almost anywhere in the Lower 48 states.
What about Canada?
Environment officials warned that a major winter story is expected to smash into the provinces of New Brunswick, Nova Scotia and Prince Edward Island on Thursday.
Officials predict that snow and high winds may cause worse power outages than those that affected 158,000 customers in Nova Scotia on Christmas Day.
Note: This story is auto-generated from BBC syndicated feed and has not been edited by AFRICA PRIME NEWS