By Amos Tauna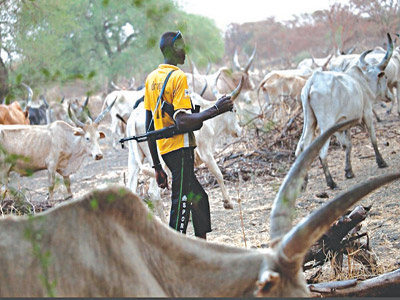 Miyetti Allah Cattle Breeders Association of Nigeria, MACBAN, has expressed dismay that the porous nature of Nigerian borders is responsible for the free entry and exit of the foreign killer fulani herdsmen attacking parts of Nigeria.
The association noted with concern that something urgent need to be done to arrest the ugly situation before it develop to a different thing in the country.
Addressing newsmen in  Kaduna, Saturday,  MACBAN Assistant National Secretary General, Ibrahim Abdullahi, said, "In Nigeria, our borders are porous, people come in anytime and go out anytime they want, infact it is a shameful thing today that we don't even know those that are indigenous Fulanis or the trans-human Fulanis.
"We don't know and that is why people mixed things up, you begin to suspect the Fulani man that you grew up with when anything happens. He has not traveled far where did he get the AK 47.
"It is either Nigeria opts out of the ECOWAS protocol or we should apply the conditions. We should ensure that anybody coming into the country, we know when he is coming, where he is going and control what they are coming with.
"Another problem we have that you people don't know is that, these migratory Fulanis that come into the country with all forms of weapons, many at times they come in with less than 50 cattle, but when going back they go with thousand cattle rustled from our own Fulanis here. So our economy is also affected.
"One other issue we need to know again is that, some of these countries that Fulanis come from in Africa have crises, like Chad or central African Republic were there is rebellion. Weapons have become like pure water or bread, so people from there see it as normal to hang AK 47.
"So it is left for the government to do the right thing, let us decide who comes in because it is our country, let us decide the terms for the person coming, let us not because of ECOWAS protocol leave everything to fate, that is not going to help us.
"The truth is that that when you go to your village today you will see Fulanis that have been there since, apart from the knife and the stick that they have and maybe Dane gun for hunting they don't have AK 47. The truth is that these people coming from other countries we have to control them."
Abdullahi who was addressing the press on the alleged killings of four of their members by Kadara and Gwari communities in Kajuru local government areas of Kaduna state said, a kidnap incident took place in the area allegedly by Fulani herdsmen, but instead of trying to get to the root of the matter the communities descended on the nearest Fulani community, a development he said was not good enough.
According to him the communities, federal and state governments need to do a lot to stem the tide of violence.
He insisted that there was need for people to understand the different types of Fulanis, saying, Fulanis are categorized into three, one you have the settled Fulanis every part of the north you have Fulanis that are indigenous to that area. Then you have the semi settled Fulanis, they move but the movement is not constant and is not very far.
"Then you have the trans human Fulanis, those that are constantly on the move and they can also be categorized into two, some of them are Nigerians, some are foreigners from our neighboring countries like Cameroun, Chad and even Niger. Those Fulanis are constantly on the move and there is a law that provides for that movement.
The ECOWAS protocol on nomadic transhuman movement,  the unfortunate thing is that all the signatories to those protocols, there are conditions governing people entering into your country or going out of your country.
"If you are to move from Niger to Nigeria, at the border there must be what we called control post, Benin Republic here they have a control post with Custom, SSS immigration and other related agencies, so that you don't come into that country with sophisticated weapons or anything that is considered contraband to that country, they check that.
"Also you must ensure that your animals are vaccinated from all other killer diseases so that you don't go into the country and infect their animals and so on.
"There is also the Gambian approach, Gambia is a signatory to this protocol, but anybody from any part of West Africa who want to go into Gambia to graze his animals, his home country must write officially to the Gambian government telling them that due to drought or dry season or any other reason we want to come into your country for grazing, you will tell them the number of animals you are coming with and the route you want to come in through.
"At the border you meet the officials and do the necessary checks and then agree that you will not come in with weapons because the Gambian security system will protect you," he explained.