By Longtong Ibrahim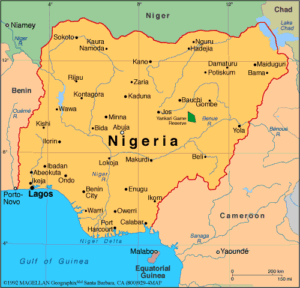 Residents of Fagaci Tsohuwa and Fagaci Sabuwa communities in Soba local government area of Kaduna State in northeast Nigeria have cried of total neglect by past and present government in the country.
"Even those we elected cannot come down to our communities for visit because the roads are bad. Majority of us are farmers and we find it very difficult to transport our farm produce to the market, most especially during rainy seasons; we have no schools, healthcare facilities and portable drinking water; sometimes we feel helpless of our situations," residents of Fagaci Tsohuwa and Fagaci Sabuwa communities in Soba Local Government Area of Kaduna state in northwestern Nigeria, cried out.
Speaking during a public engagement with duty bearers and presentation of community demand charter by the two communities, a program organized by the Legal Awareness for Nigerian women (LAWN) with sponsorship from DFID in Kaduna, representative of Fagaci Sabuwa, Bello Aliyu decried that his community which comprises of nine villages with a population of over 50,000 people travel 15km before accessing the major road.
He explained that after harvesting their crops, they find it very difficult to transport them to the market, and even when they are able to transport the farm produce, it was very expensive due to the nature of the road.
He added that the community's health facility had only a single bed with two staff who finds it difficult to handle complicated or emergency cases; noting that, they also lack portable drinking water, classrooms for primary school pupils and secondary school.
Similarly, the representative of Magaji Tshohuwa community Danladi Secretari, said it is not everyone that can come into their community with a car, even the representatives whom they have elected.
According to him, they have become helpless of their situations because even when their wives and children fall sick, they find it very difficult to take them out of the communities due to bad roads.
"We lack the support and care of those we elected, our children fall sick and sometimes we become helpless, even the primary school in the community was provided based on community efforts but there are no teachers," he lamented.
He however called on the government to come to their aid by providing them with the basic infrastructure and social amenities so as to make life better and bring development to them.
While making his remark, the Sole Administrator of Soba local government area, Shuaibu Ahmed, who was represented by Jibrin Kassim thanked LAWN for sensitizing the communities on rights issues.
He further urged community members to be wise when it comes to electioneering period to elect those with passion for the communinty who would give them listening ears all the time; He however promised to present their demand charter to the Chairman.
Speaking earlier, the Executive director of LAWN, Mrs. Rebecca Sako John, said the project which is tagged 'voices to the people' (V2V), was sponsored by DFID and is aimed at sensitizing the public on rights issues.
She explained that it was a pilot project to be test run in six villages of three Local Government Areas of Kaduna state, one from each senatorial zone – Soba, Kaura, and Kaduna south LGA.
According to her, "lt is in deep understanding of the roles of citizens and the different arms and levels of government that LAWN, Gender Awareness Trust and Aid Foundation are collaborating with Christian Aid in Kaduna state to build active citizen to engage government on issues towards attaining efficient and effective service delivery for sustainable development."
She further explained that, they enlighten the people on knowing their rights and civic duties; how they can approach government and present their challenges, as well as push to see that government provide them with the necessary infrastructures and social amenities.
"Our choice of communities and LGAs is deliberate in order to empower poor communities who have not really felt the presence of governance or benefited from development Agencies. There are plans to scale up the project to more communities and LGAs," she added.